Singing seems like a hobby to many people around the world. But many of them have taken singing as their profession. They have reached at another level of popularity by the talent of their singing.
People enjoy a lot to hear songs while they're working or free. Bangladesh is a blessed country with many kinds of talented people. Of them, singers are one of the most loved peoples. Here we're going to talk about those Top 10 Legendary Singers in Bangladesh who have always entertained us by their versatile singing.
Here is the list of Top 10 Legendary Singers in Bangladesh
01. Runa Laila
Runa Laila is not only a very popular figure of Bangladesh, also of South-Asia. She entered in the singing area in the time of East Pakistan, in 1960. She sings fusion and pop songs along with Ghazals.
Runa Laila playbacked for many popular films like "The Rain", "Devdas", "Tumi Ashbe Bole", "Accident", "Ontore Ontore", "Priya Tumi Shukhi Hou" etc. All these playbacks have helped her to achieve "Bangladesh National Film Awards for Best Female Playback Singer" seven times.
She has sung songs in more than 17 languages including Bengali, English, Urdu, Hindi, Punjabi, Italian, etc. That proves her immense talent and reason for so much popularity.
02. Sabina Yasmin
Sabina Yasmin is a well-known Bangladeshi playback singer. She entered the media sector around 1970. She has a record to win "Bangladesh National Film Award for Best Female Playback Singer" for 13 times. She has sung more than 10,000 songs still now, which is also a record.
Sabina Yasmin's first playback song was "Shudhu Gaan Geye Porichoy". That song was a great hit. Later she also blessed the Dhallywood with many popular songs like "Sob Kota Janala Khule Dana", "Shudhu Gaan Geye Porichoy", "Tumi Je Amar Kobita", "Ei Mon Tomake Dilam" etc.
This legendary singer has play backed in many popular movies like "Jibon Theke Neya", "Ora Egaro Jon", "Abar Tora Manush Ho", "Golapi Ekhon Traine" etc.
03. Ayub Bacchu
Ayub Bacchu is a very famous musician in Bangladesh. He used to write songs, compose songs and also sing them. He was the top rock-guitarist of Bangladesh. Ayub Bacchu became more famous because of playback "LRB", which he founded in 1991.
His debut song in the music industry was "Harano Bikeler Golpo". Later he also made remarkable works in "Shei Tumi Keno Eto Ochena Hole", "Ami Koshto Pete Valobashi", "Ferrari Ei Monta Amar", "Haste Dekho, Gaite Dekho", "Rupali Guitar", "Ek Chala Tin Er Ghor" etc.
Ayub Bacchu had worked in many popular films too. Some of them were "Ammajaan", "Bachelor", "Wrong Number", "Television", "Ek Cup Cha" etc. He was awarded many times for his amazing singing since 1998.
04. Azam Khan
Azam Khan's real name is Md. Mahbubul Haque Khan and is known as "The King of Pop Music" or "The Rock Guru" of Bangladesh. He was an all-rounder. He used to write and compose songs, and also used to sing. Azam Khan was a freedom-fighter too.
Azam Khan entered in media in 1972, when he performed for "Bangladesh Television" along with his band "Uchcharon". His band "Uchcharon" was known as the "First Rock Band" of Bangladesh.
Afterwards, he had entertained audiences with many hit songs like "Alal o Dulal", "Bangladesh", "Rail Line er Oi Bostite", "Guru Tomay Salam", "Saleka Maleka", "Papri Keno Bojhena?" etc. That's why he got many prestigious awards like "Ekushe Padak".
05. Subir Nandi
Subir Nandi was a very famous singer of Bangladesh. He had joined the music media in 1972 by recording his first song "Jodi Keu Dhup Jele Dey".
Subir Nandi had sung many popular songs like "Amar E Duti Chokh", "Hajar Moner Kache", "Ekta Chilo Shonar Konna", "Koto Je Tomake Beshechi Valo", "Ami Brishtir Kach Theke", "Paharer Kanna Dekhe", "O Amar Ural Ponkhi Re", "Bondhu Tor Borat Niya" etc. His different singing style made his songs immortal.
Subir Nandi used to play back for movies too. He sang in many popular movies like "Devdas", "Mahanayak", "Ammajaan", "Shrabon Megher Din", "Shasti" etc. These play backs helped him in winning "Bangladesh National Film Award for Best Male Playback Singer" for five times.
06. Bari Siddiqui
Bari Siddiaui was a popular Bangladeshi musician. He used to write and sing songs. Bari Siddiaui also used to play flute very nicely. this is another reason of people's liking him so much. He entered in music media in 1985, through a show on "Bangladesh Television". Later, Bari Siddiki has sung more than 160 songs in his career.
People use to find their reflections on the lyrics of Bari Siddiki's songs. They feel very connected hearing his songs like "Shua Chan Pakhi", "Amar Gaaye Joto Dukkho Shoy", "Manush Dhoro Manush Bhojo", "Pubali Batashe", "Ami Ekta Zinda Laash" etc.
Bari Siddiki had also play backed for films, of them "Shrabon Megher Din" by Humayun Ahmed is the most popular one.
07. Sanjeeb Chowdhury
Sanjib Chowdhury is known as a popular lyricist, composer and singer. His different but beautiful lyrics and singing quality had made him achieve immense love from the audience.
Sanjeeb Chowdhury along with Bappa Mazumdar started a band named "Dalchhut", which is active since 1996. And together they presented many wonderful songs like "Shada Moyla Rongila Pale", "Gari Cholena" (Cover of Shah Abdul Karim's main song), "Bioscope" etc. Sanjeeb Chowdhury's solo song "Ami Tomakei Bole Debo" is considered as one of the best Bengali songs of all time.
Sanjeeb Chowdhury had play backed for only one film named "Bachelor". And the song's name was "Tomar Bhaaj Kholo". His only solo album's name is "Swapnobaji", which was released in 2005.
08. Rezwana Chowdhury Bannya
Rezwana Chowdhury Bannya is an expert Rabindra Sangeet Singer of Bangladesh. Along with harmonium, she plays esraj sometimes while singing. She took degrees from "Chhayanaut". Later, she got scholarship and attended "Shantiniketan" for singing better and got trained under many experts.
Bannya opened a music learning school named "Shurer Dhara" in 1992. There she wholeheartedly teaches Rabindra Sangeet to her students. Bannya has released "Sruti Geetobitan" in 2010, which is a audio version of "Geetobitan" of Rabindranath Tagore.
Along with being a singer, she's a professor in Dhaka University. Some of Bannya's solo albums are "Swapner Abhashe", "Pran Khola Gaan", "Shurer Kheya", "Kobi Pranam" etc. She has got many prestigious awards like "Independence Day Award", "Banga Bhushan", "Gaane Gaane Gunijon Songbordhona" etc.
09. Syed Abdul Hadi
Syed Abdul Hadi is a popular Bangladeshi singer. He started his career by singing song for a film named "Ye Bhi Ek Kahani" in 1964.
Syed Abdul Hadi has sung many popular songs like "Achen Amar Moktar", "Ekbar Jodi Keu Valobashto", "Jonmo Theke Jwolchi", "Ki Kore Bolibo", "Je Matir Buke", "Shurjodoye Tumi, Shurjastoye Tumi" etc. He has also play backed for popular movies like "Golapi Ekhon Traine", "Sundori", "Khoma", "Kosai", "Goriber Bou" etc. These playbacks have made it possible for him to achieve "Bangladesh National Film Award for Best Male Playback Singer" for five times. He has also received "Ekushey Padak" in 2000.
Many people get amazed hearing his singing even though now he's 79 years old.
10. Fakir Alamgir
Fakir Alamgir is a folk singer of Bangladesh. He also sings pop songs. After the Liberation War, he started to sing mass songs.
Fakir Alamgir started his career by singing in 1966, in time of East Pakistan. He is also popular as a "Shadhin Bangla Betar Kendro" artist. He's greatly influenced by the Liberation War, so he has authored some books on this topic too.
Fakir Alamgir has gifted many popular songs to the audience like "O Sokhina Gesos Kina Vuilla Amare", "Naam Tar Chilo Jon Henry", "Banglar Comrade Bondhu", "Nelson Mandela" etc. For his tribute to Bangladeshi music, he has got "Ekushey Padak" in 1999. He is active in music sector of Bangladesh still now.
These are the top 10 legendary singers in Bangladesh. Hope you liked reading about them. If you have any suggestions about our writing, kindly drop your them in comment sector. Thanks for reading the article. We have also published an article about Top 10 Female TV Actors in Bangladesh. Please check that out.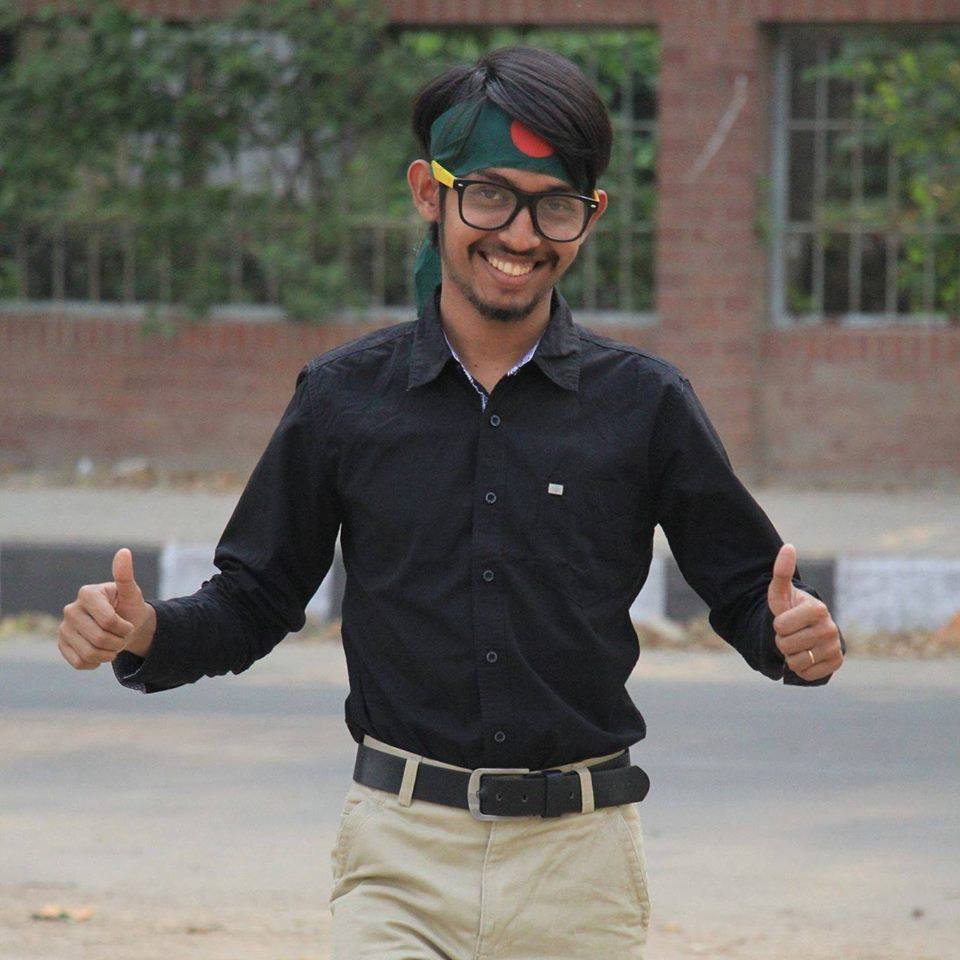 Hi, I am Hredoy. Movie and Travel Freak. You can also call me technology geek. I've spent the past four years working as a consultant in social media marketing along with SEO. I have always been curious about startups to accelerate the growth of new tech products and go-to-market plans.