We might hear about the attractive floating markets in Thailand, China, Vietnam, Indonesia, Australia. people from different corners of the world gather there to amuse them with natural river-centred beauty.
In Bangladesh, we have the chance to visit such enchanting floating markets in Pirojpur district. Pirojpur is a low- lying area with heavenly riverine beauty in the southern part of Bangladesh.
As a historical land, there are lots of tourist places in Pirojpur. If you are a traveler, then this article is greatly for you. Today I will suggest you about the top 10 tourist spots in Pirojpur.
List of Top 10 Tourist Spots in Pirojpur
01. Atghar Kuriana Floating Guava Market
The 200 years old floating guava markets of Atghar Kuriana is renowned not only in Bangladesh but also in Asia. This is the most attractive tourist place situated at Nesarabad upazlia in Pirojpur district. A huge number of visitors gather here to enjoy the traditional floating guava market and the longest eye-soothing guava orchards in Asia.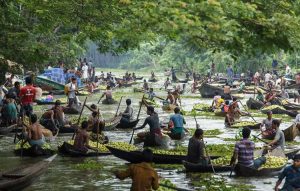 This area's guava is well known as 'Bengal's Apple' . People of this locality mostly lead their life by guava cultivating. They sell guavas in the monsoon. Farmers gather at market early in the morning with guava and Hog Plum(Amra). This beautiful floating market attracts tourists from July to August month. Traveler from home and abroad come here to visit this unique sight. Visitors feel pleasant to look over such an extraordinary market.
02. Boithakata Floating Market
Boithakata is a traditional floating market located at the bank of Belua River under Nazirpur upazila in Pirojpur . People here have conventional river-centred trade measures like Thailand, China, Australia etc. This market has been going on since 1962s having widely impacted on villagers lifestyle.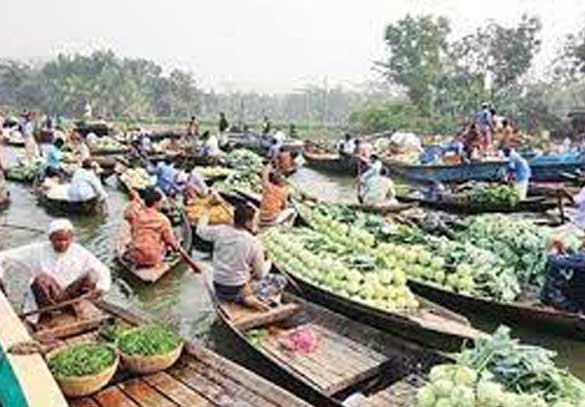 Every Saturday and Tuesday diversified agricultural products that attract the travelers are sold here .Both buyers and sellers are present here depending on boats which is lovely looking to watch. To enjoy such enchanting moments visitors from home and abroad gather here regularly .They hire Trawlers for whole day and observe the market with amusement.
03. Horinpala Eco Park
Horinpala River View Eco Park was established in 2014 on six acres land at the bank of Kocha river situated at Telikhali union under Vandaria upazila in Pirojpur. This is a wonderful green land with full of beautiful flora and fauna that attracts visitors of all ages having mingled of artificial creation with natural environment.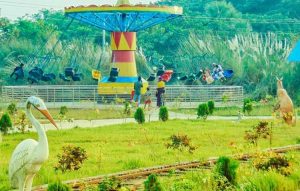 Amusement knows no bound when mingling of singing birds, waves of river and flows of catkins get revealed here. There are various interesting rides, toy trains, a high watchtower, sculpture of birds, heavenly fountain to entertain the tourists. There is even an opportunity to make a boat ride on enormous artificial Lake.
In Horinpala Eco Park There is a 74-acre sanctuary of deer and birds nearby the park that has made the park more popular countrywide .It is also called a mini zoo containing around 50 deer and numerous collection of birds. There are few restaurants too and you could stay there night.
A huge number of tourists gather here to get recreation from the hustle and bustle of city life. You can make a visit here.
04. Rayerkathi Zamindar Bari
Rayerkathi Zamindar Bari is one of the oldest architectural indications of 17th century in Bangladesh. It is situated at 3 kilometers north of Pirojpur city at Rayerkathi Mahalla in Pirojpur. Visitors gather here to see the infrastructures of 17th century which still reveal the significance of that time.
There are about 30 structures in the palace complex including eight large buildings and several tall temples. The temples are still standing with great influence of hindu religion. It is said that the sub-continent's largest Shiva Linga is situated here that weights 1000 kg. As it is not very far from city , everyday many tourists come here.
05.Vandaria Shishu Park
Vandaria Shishu Park is a popular centre for all ages people located at the bank of Pona river on 3.38 acres land under Vandaria upazila in Pirojpur. This familial recreation centre stands in front of Vandaria police station and that's why it is a safe zone for the visitors. Although it requires no entry fee ,you have to pay for all kinds of rides.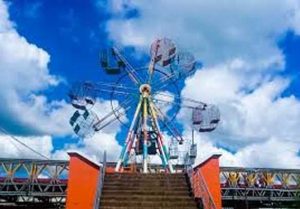 Everyday this children's park remains opened for the tourists. There are different types of rides such as wheelbarrows, boats, swings, trains etc for child's entertainments. You will find also some portraits of animals like giraffes, camels, elephants, lions, deer etc. These popular scenes attract visitors most. To get relaxed from busy life, this is the best place for you.
06. Momin Mosque
Momin Mosque is the only wooden made mosque in the south Asia built between 1913 to 1920 by Moulovi Mominuddin Akon. It is situated in Udoytara Burirchar village of Mathbaria upazila in Pirojpur. It is an unique mosque in the sense that it is structured without nails by woodworkers and calligraphers. Momin Mosque is locally known as 'Kath Mosjid (Wooden made Mosque)'
The philanthropist Mominuddin used many gorgeous woods to make it which were rare at that time. Extraordinary construction style has made the mosque more attractive to the visitors. In 2003, the Department of Archeology (Bangladesh) recognized it as a national heritage and listed it for its care and protection. Tourists from home and abroad gather here to visit this unique mosque.
07. DC Park
The DC park is a widely popular tourist spot in Pirojpur. It is located at the bank of Baleshwar river slightly far from the main town of Pirojpur. It is also known as Pirojpur Riverview echo park. The natural beauty of Baleshwar river is enjoyable from a five-storey watchtower. visitors are mostly attracted by this watchtower to observe the surroundings of this beautiful Riverview echo park.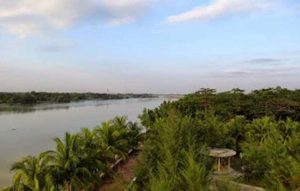 Another most interesting aspect this park is the road that located in the lap of the Baleshwar river. You will enjoy the fresh air of this river while walking on it. There are also fountain, lake and coffee shop. Two wooden bridges and boats on the lake are also available in the park. You will be able to visit some flower gardens here. As it is not very far from the main town, you can make visit here to enjoy some beautiful scenes.
08.Sarsina Madrasah
Sarsina Darus-Sunnah Kamil Madrasah is a renowned religious institution in Bangladesh. It was established on 15 January in 1915 on 20.56 acres land, in Sarsina village under Nesarabad upazila in Pirojpur. This is the first recognized 'Kamil' madrasah in Bangladesh.
It is unique in the sense that a 320 feet minar is being built here which is visible from a long away of madrasah. In the campus area, there are buffalos, horses, oxen etc roaming which attract the visitors most. There are many Tamarisk trees around this institution. A huge number of male tourists come here to visit the madrasah.
09. Poet Ahsan Habib's House
Ahsan Habib is a distinguished poet of Bangladesh. He was born on 2 January in 1917 at Sankarpasha village in Pirojpur Sadar. He has written a lot for the Bengali readers. Ahsan Habib has great fame all over the country.
A memorial remembering him has been built at the village entrance at Sankarpasha by the district council. A huge number of visitors from different parts of Bangladesh gather here to see the eminent poet' house. At present, It is a popular tourist spot in Pirojpur.
10. Azim Faraji's Mazar
A religious person named Azim Faraji established this mazar. It is situated at Chungapasha village of Durgapur union in Pirojpur sadar. It is said that he vowed here and his vow was fulfilled. From then it has become more popular.
A lot of people come here to visit this mazar. It is becoming more popular day by day.
Conclusion
So, these are the top 10 tourist spots in Pirojpur. If you are thinking to have a tour in the southern part of Bangladesh , then Pirojpur can be your best choice for you. Make time and have a visit here.